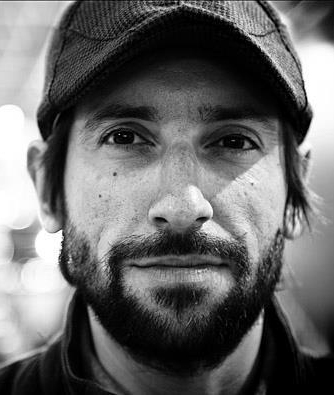 LUCA CARLINO
Born in Rome in 1976 where he lives and works, Luca Carlino began his professional career by combining his passion for live music with the experiments of the photographic lens.
From here he begins to photograph the Italian and international music scene, among the names in the archive there are, Radiohead, U2, Depeche Mode, Pearl Jam, Roger Waters, Mick Jagger, Ben Harper, Arctic Monkeys, Brian Eno, Iggy Pop, Oasis, PJ Harvey, Morrissey, Paul McCartney, Blur, The Strokes, The Cure, and many others.
In addition to his commitment to the recording industry, Luca Carlino has started collaborating with the journalistic agency LUZ, where he deals with cinema, since September 2018, including his presence in the most important national events, like the Venice Film Festival, the David di Donatello, and the Rome Film Festival.
Among the publications made, the Mondadori Group magazines, the Espresso Group newspapers, the Sunday Times in London, The Week Magazine, Vanity Fair, Corriere della Sera, Internazionale, Grazia, MarieClaire, The Guardian, Le Figaro, Ciak, DRepubblica, Esquire Cz, where he makes the cover in February 2020, with a portrait of the actress Margot Robbie.
In the online information offer, the shots of the Roman photographer appeared on Repubblica.it, Rolling Stone Italia, La Repubblica XL, Maxim.com, Le Parisien.fr, Daily Mail.co.uk, Vogue Italia.it, Billboard. com, Cbs.com, Zeit.de, ParisMatch, SkyArte.
In 2019 he created the personal exhibition entitled 'FRAME', hosted in the exhibition spaces of the Casa del Cinema in Rome. Protagonists of this project are the faces portrayed in black and white, of a new generation of Italian actors, among which stand out Marcello Fonte, Andrea Lattanzi, Benedetta Porcaroli, Serena Iansiti, Alessandro Sperduti, Luca Marinelli, Alessandro Borghi, Elio Germano and many others.
In 2020 he made a report at the Maison Valentino, where he documented, through his vision, the creation of a bag carefully produced by the expert hands of the craftsmen of the high fashion house, to then be previewed at the Paris Fashion Week 2020.
In 2021 he published a portrait of the actress Scarlett Johansson on the prestigious Time magazine, included in the list of the 100 most influential people.
CONTACT